The Undisputed Overlord of Classifieds
Earlier this week, Norwegian Adevinta acquired eBay's Classifieds business unit in $9.2B deal.
From The Financial Times:
Norway's Adevinta is paying $9.2bn in cash and stock to create the world's largest online classified advertising business with eBay. Ebay will receive $2.5bn in cash and become the largest shareholder in Adevinta, with a 44 per cent equity stake and a third of the voting rights in the Norwegian company. The combined company includes classified ads websites in 20 countries such as leboncoin in France, Gumtree in the UK and mobile.de in Germany with annual revenues of about $1.8bn last year and operating profit of almost $600m.
The deal includes eBay getting $2.5 billion in cash and 540 million Adevinta shares. The deal makes eBay a 44% owner of Adevinta, with a 33.3% voting stake.
On eBay's side, the deal comes from internal pressure to focus on the main marketplace business. They sold a business unit but still keep a big upside by owning almost half of Adevinta.
During the first quarter of this year, eBay's main marketplace business generated $2.1 billion in revenue, down, while its classifieds business saw $248 million in revenue. In 2019, the classifieds business made $1.1 billion in revenue, versus $7.6 billion for eBay Marketplace, which is weathering competition from larger online rivals like Amazon.
But the most interesting angle - to Seedtable at least – is Adevinta and how this makes them the number one marketplace player in the main European economies of Germany, France, Spain and Italy.
Really? Yes, really.
Adevinta has 35 marketplaces across 15 countries and Ebay  owns 12 brands in 13 countries. Combined they have almost 40 properties in 20 countries.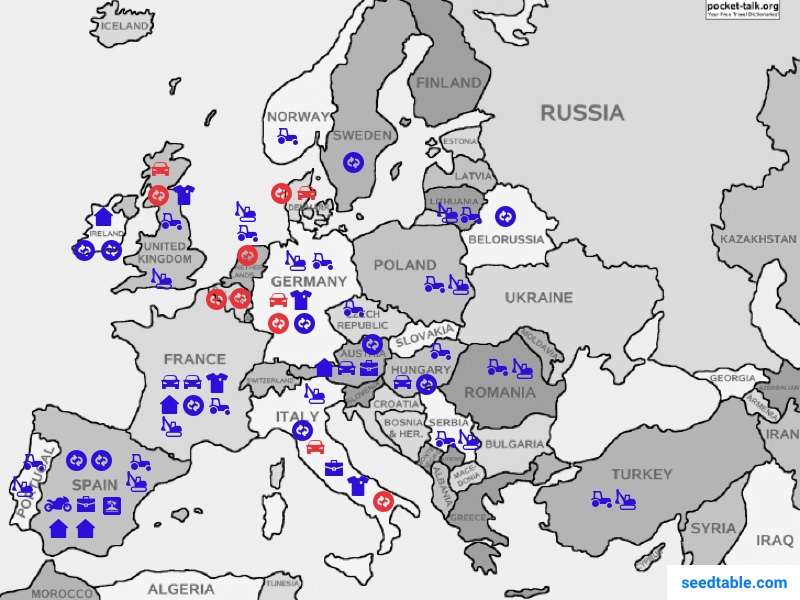 Density, Marketplaces and Classifieds
Classified are, in a very rough sense, marketplaces. They connect buyers and sellers, providing access to each other via an online platform.
But for a classified businesses to work and be defensible it needs two things:
Absolute Density. A classified business needs to have enough users that if you are buying, you find what you are looking for and if you are selling, you can actually sell your product. If there are no buyers or not a good enough selection, you are toast.
Relative Density. A classified business needs to have a better absolute density when compared to its competition on a given region. Because of "Success of the Successful" dynamics, If two marketplace start with 51% and 49% market share each, the 51% won't get ahead linearly but exponentially.
This means that if you are first mover and achieve a good enough scale, you kind of win.
CraigList is the perfect example of this. They grew very fast and they do over $1 billion per year in revenue by virtue of not fucking up.
That's why no one is starting a classified business in 2020 and why these marketplaces buy their way towards growth (see MercadoLibre, Takeaway.com, etc.)
Many have tried to disrupt it, including Facebook with Marketplaces. But they've achieved such an incredible scale that they are hard to disrupt.
All this is a fancy way of saying that Adevinta's move is brilliant.
This acquisitions enables them in accessing new markets and digging a deeper moat around most of their sub units, which, by definition, enlarges the moat around their business.
Let's break it down.
1. Accessing new markets. By acquiring eBay's Classifieds, Adeventia is buying its way into established positions in three completely new markets.
Belgium gets into classifieds with 2dehands and 2ememain
Denmark gets into classifieds with dba and cars with BilBasen
Netherlands gets into classifieds with Marktplaats
2. Increasing absolute density for key properties in key markets. eBay's classified business have some regional overlap with Adevinta's, which means that combining both has more value than each marketplace individually. The whole is better than the sum of the parts kind of thing.
In the UK, Gumtree strengthens Videdressing and motors.co.uk gives them a new vertical.
In Italy automobile.it strengthens Subito and kikiki strengthens Subito, infojobs.it and Videdressing.
The recipe to disrupt Adevinta
Adevinta's bet is that the combined power of both companies will make them the undisputed overlord of classified marketplaces.
And eBay is betting on the exact same thing. The deal makes eBay a 44% owner of Adevinta, with a 33.3% voting stake. So they are not just getting rid of a property to focus, but getting a huge potential upside.
This was a deliberate move:
Adevinta, which was spun out of Norwegian media company Schibsted last year, lagged behind in the initial bidding, offering $8bn in cash and stock compared with a $9bn all-cash offer from rival Prosus, the Dutch-listed arm of South Africa's Naspers, according to people familiar with the deal. But eBay's chief executive James Iannone convinced directors at the weekend that the US ecommerce group should retain exposure to the classified ads business and persuaded Adevinta to raise its offer.
But the Adevinta stronghold over marketplaces isn't perfect. Marketplaces can still be disrupted.
If you attack one niche (i.e. cars) on a limited region (i.e. Spain) by providing a much better experience across a different dimension than access (i.e. risk), then the incumbent won't be able to defend because the act of defending (i.e. changing their business model for one small niche) is a huge (and irrational) pain in the ass.