Just Eat Takeaway and New Solutions to Old Problems
It's been a busy pandemic for Jitse Groen.
Weeks after Takeaway closed an $8 billion deal for Just Eat and became Just Eat Takeaway (JET), Jitse got to work and acquired Grubhub.
From the Financial Times:
Just Eat Takeaway, the European food delivery app, has agreed to acquire Chicago-based Grubhub for $7.3bn in stock in a deal that could create a world leader in online delivery. Just Eat Takeaway beat out Uber, which had put Grubhub in play by approaching its US rival in early February. Uber lost the race partly over regulatory concerns, according to people briefed on the matter. Germany's Delivery Hero was also considering a bid.
JET is now the largest food delivery company outside China. This reshuffles the global food delivery wars, creates two very distinct "teams" and gives Europe the upper hand on this side of the world.
But first let's take a step back and try to understand Takeaway's strategy.
Takeaway and the New/Old framework
A useful mental model when thinking about companies is the New/Old framework – there are New Problems and Old Problems, and New Solutions and Old Solutions and where you fit in that axis influences your rate of success.
New Problem with a New Solution.
Old Problem with a New Solution.
New Problem with an Old Solution.
Old Problem with an Old Solution.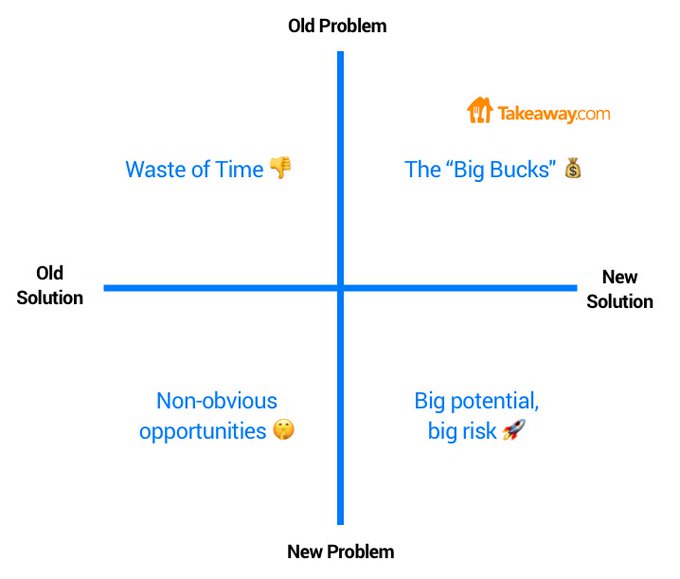 Takeaway.com started 20 years ago in the Netherlands when Jitse Groen (then a student) couldn't order food during a family gathering.
Since then, they raised €13 million from Prime Ventures, a few, and IPO'd in Amsterdam in 2016, all on the back of picking the promising quadrant – a new solution (the internet) to an old problem (food delivery).
The two types of Food Delivery companies
There are two types of Food Delivery companies.
Marketplaces. A platform for restaurants that have takeaway to offer their own services to new customers. JET is the perfect example.
Delivery networks. Apps that use their own delivery network to bring meals from restaurants that would not traditionally offer take-out. Uber is just one example but there are many including our very own Delivery Hero and Deliveroo.
There are almost the same except for one small thing – profitability.
When Uber entered the food space they wanted to do something different, to innovate. Why not leverage their existing infrastructure to make online food delivery better?
My choice of words is very important here: there is an enormous difference between solving food delivery and online food delivery.
Food delivery is an Old Problem and Takeaway applied a New Solution to it, building a great, profitable business with solid foundations on top of it.
Online food delivery is a New Problem and Uber applied a New Solution to it. The potential upside is gigantic ($112-billion-big) but so is the challenge and the risk.
And it turns out that having to pay for labor costs real money (who knew, right?) and really fucks up with unit economics.
Here's Quartz reporting that analysts expect Uber Eats to lose money on every order for at least the next five years:
The report zeroed in on the unit economics, or per-order costs, of Uber's food-delivery platform. Cowen's analysts estimate that Uber is currently losing $3.36 on every order. They expect that loss to shrink to $0.46 per order by 2024, but didn't say anything about when the food-delivery business might turn a profit.
Takeaway and Grubhub both know this.
Extremely important, particularly as COVID shines a light on their operation and governments start thinking abiout regulating, taxing or capping delivery companies.
Acquiring your way to success
Marketplaces famously use acquisitions as a quick (and safe) expansion mechanism.
Here's from my Lessons from MercadoLibre edition:
"When securing the first-mover advantage wasn't possible, MercadoLibre resolved to acquire smaller local players to speed up geographic saturation. In 2008 they acquired deremate.com and Classified Media Group, in 2014 Portal Inmobiliario, a Chilean classified ad website and in 2015, Mercado Libre Metroscúbicos.com, the portal of Mexico-based real estate company Grupo Expansión."
Takeaway not only merged with JustEats. But they also acquired Pizza.be in Belgium, 10bis in Israel, and Lieferheld, Pizza.de and Foodora in Germany.
What Jitse Groen is doing – and has been doing for a while – is playing collectibles with the only companies in the space that know how to make money.
And Grubhub fits right in this Old Problem, New Solution framework. Here's Matt Maloney, CEO and founder:
"When Grubhub and Seamless were founded, the online takeout industry didn't exist in the U.S. My vision was to transform the delivery and pick-up ordering experience. Like so many other entrepreneurs, we started modestly – restaurant by restaurant in our Chicago neighbourhood."
The merger would open up a brand new market to Just Eat Takeaway, which has a foothold across Europe and Latin America but absolutely nothing in the United States.
But it is also a clear bet that companies like Deliveroo and Delivery Hero will never be able to make money.
It's not clear that the food industry can sustain the delivery industry but if it does, it will be a winner-takes-all market. And you are a lot more likely to win if you have a positive EBITDA.